My Blog
Posts for tag: tooth decay
By David B. Bernard, DDS
January 16, 2019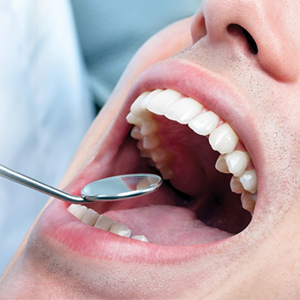 Dental caries (tooth decay) is a leading cause of tooth loss. But with prompt diagnosis and care we can often stop it before it causes too much damage.
The traditional treatment approach is simple: remove all diseased tooth structure and then restore the tooth with a filling. But this otherwise effective treatment has one drawback: you may lose significant healthy structure to accommodate a suitable filling or to make vulnerable areas easier to clean from bacterial plaque.
That's why a new treatment approach called minimally invasive dentistry (MID) is becoming more common. The goal of MID is to remove as little of a tooth's natural enamel and dentin as possible. This leaves the treated tooth stronger and healthier, and could reduce long-term dental costs too.
Here's how MID could change your future dental care.
Better risk assessment. MID includes a treatment protocol called caries management by risk assessment (CAMBRA). With CAMBRA, we evaluate your individual tooth decay risk, including oral bacteria levels, the quality of saliva flow to neutralize mouth acid, and sugar consumption. We then use our findings to customize a treatment plan that targets your areas of highest risk.
New detection methods. The real key to fighting tooth decay is to find it before it can destroy tooth structure with the help of new diagnostic technology. Besides advances in x-ray imaging that provide better views with less radiation exposure, we're also using powerful dental microscopes, lasers and infrared photography to show us more about your teeth than we can see with the naked eye.
"Less is More" treatments. In contrast to the dental drill, many dentists are now using air abrasion rather than a dental drill to remove decayed tooth material. Air abrasion emits tiny material particles within a pressurized air stream that leaves more healthy tooth structure intact than with drilling. We're also using new filling materials like composite resin that not only resemble natural tooth color, but require less structural removal than other types of fillings.
Using MID, we can treat tooth decay while preserving more of your natural teeth. This promises better long-term outcomes for future dental health.
If you would like more information on new treatments for tooth decay, please contact us or schedule an appointment for a consultation. You can also learn more about this topic by reading the Dear Doctor magazine article "Minimally Invasive Dentistry: When Less Care is More."
By David B. Bernard, DDS
September 22, 2016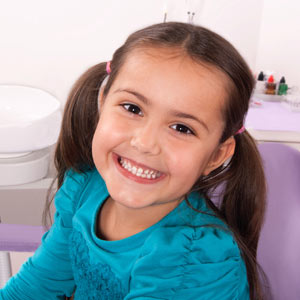 Protecting a child's primary ("baby") teeth from tooth decay should be a top priority. If one is lost prematurely due to decay, it could cause the permanent tooth to misalign when it comes in.
The basic prevention strategy for every child is daily brushing and flossing and regular dental visits. But children at higher risk for decay may need more: Â additional fluoride applied to teeth enamel during office visits.
This natural mineral has been shown to strengthen enamel, teeth's protective layer against decay, especially during its early development. Enamel is composed of calcium and phosphate minerals interwoven to form a crystalline structure called hydroxyapatite. Fluoride joins with this structure and changes it to fluorapatite, which is more resistant to mouth acid than the original structure.
We mostly receive fluoride through fluoridated drinking water and dental care products like toothpaste. Topical fluoride takes it a step further with a stronger dose than found in either of these sources. It can be applied with a foam, varnish or gel using an isolation tray (foam or gel) or painted onto the enamel (varnish or gel).
But does topical fluoride effectively reduce the occurrence of decay? Research indicates yes: a recent review of 28 studies involving over 9,000 children found an average 28% reduction in decayed teeth in children who underwent topical fluoride treatments.
There is, though, one potential side effect: children who swallow the fluoride substance can become sick and experience headache, stomach pain or vomiting. This can be avoided with proper precautions when applying it; the American Dental Association also recommends using only varnish for children younger than 6 years. It's also recommended that children receiving gel or foam not eat or drink at least thirty minutes after the treatment (those who receive the varnish aren't restricted in this way).
Topical fluoride is most effective as part of an overall prevention strategy. Besides daily hygiene and regular dental visits, you can also help reduce your child's decay risk by limiting the amount of sugar in their diet. Sealants, which are applied to the nooks and grooves of teeth where plaque can build up, may also help.
If you would like more information on fluoride gels and other clinical treatments to prevent tooth decay, please contact us or schedule an appointment for a consultation.
By David B. Bernard, DDS
July 31, 2016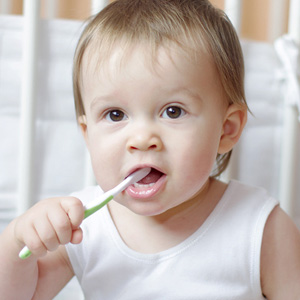 From the moment your child's first tooth appears, usually between six and nine months, you need to be concerned about Early Childhood Caries (ECC). This particular form of tooth decay can have a devastating effect on primary (baby) teeth and lead to their premature demise. Losing one before its time could adversely affect how the future permanent tooth comes in.
You can help prevent ECC with daily brushing and cleaning, regular dental visits (beginning around their first birthday) and limiting the sugar they eat. Here are 3 more things to consider for boosting your prevention efforts.
Breastfeeding. Pediatricians generally recommend breastfeeding if possible for a baby's overall health, including dental development. And although breast milk contains fermentable carbohydrates that boost bacterial growth, it no more promotes tooth decay than similar foods and beverages. That said, though, once the child begins to eat and drink other foods and beverages, the combination of sugars in them and breast milk could increase the bacteria that causes ECC. This is another good reason to wean the child from breast milk as they begin to eat more solid foods.
Bottles and pacifiers. It's quite common for parents and caregivers to soothe a fussing or crying baby with a bottle filled with formula, milk or juice for sipping, or even a pacifier dipped in jam, sugar or some form of sweetener. But these practices can create an environment that promotes high acid production from bacteria feeding on the sugars. Instead, avoid giving them a "prop-up" bottle filled with liquids containing sugar and try to limit bottle use to mealtimes. And provide them pacifiers without sugary additives if you use them.
Medicines. Children with chronic illnesses or other needs often take medication containing sugar or with antihistamines that reduce the flow of acid-neutralizing saliva. If the medications can't be altered, then it's extra important for you to practice diligent, daily hygiene to reduce the effect of higher mouth acid.
If you would like more information on dental disease prevention in babies and young children, please contact us or schedule an appointment for a consultation. You can also learn more about this topic by reading the Dear Doctor magazine article "Age One Dental Visit: Why it's Important for Your Baby."