My Blog
Posts for: February, 2020
By David B. Bernard, DDS
February 20, 2020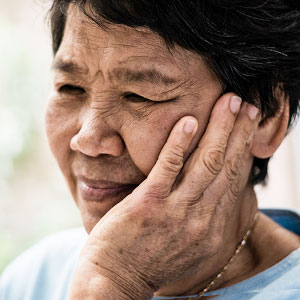 Do you know the top cause for adult tooth loss? If you guessed tooth decay, you're close—but not quite. The same goes if you said accidents or teeth grinding. It's actually periodontal (gum) disease, a bacterial gum infection that affects half of American adults.
What's worse, losing teeth could be just the beginning of your health woes. Several studies show uncontrolled gum disease could cause problems in the rest of the body. That's why we're promoting February as Gum Disease Awareness Month, to call attention to this potentially devastating oral disease—and what you can do about it.
Gum disease usually starts with a thin film of food particles and bacteria called dental plaque. As it builds up on tooth surfaces, bacteria multiply and lead to an infection that can spread below the gum line, weakening the gums' attachment to the teeth.
Beyond tooth loss, though, gum disease could affect the rest of the body. Oral bacteria, for instance, can travel through the bloodstream and potentially cause disease in other parts of the body. More often, though, researchers now believe that the chronic inflammation associated with gum disease can aggravate inflammation related to other conditions like cardiovascular disease (CVD), diabetes or arthritis. Likewise, inflammatory conditions can worsen symptoms of gum disease and make it harder to treat.
The good news, though, is that reducing the inflammation of gum disease through treatment could help ease inflammation throughout the body. That's why it's important to see us as soon as possible if you notice gum problems like swelling, redness or bleeding. The sooner you're diagnosed and we begin treatment, the less an impact gum disease could have on both your mouth and the rest of your body.
Similarly, managing other inflammatory conditions could make it easier to reduce symptoms of gum disease. You can often control the inflammation associated with these other diseases through medical treatment and medication, exercise and healthy eating practices.
You'll also benefit both your oral and general health by taking steps to prevent gum disease before it happens. Prevention starts with a daily practice of brushing and flossing to remove dental plaque. You should follow this with professional dental cleanings and checkups every six months (sometimes more often, if advised).
Gum disease can damage your teeth and gums, and more. But dedicated dental care and treatment could help you regain your dental health and promote wellness throughout your body.
If you would like more information about preventing and treating gum disease, please contact us or schedule a consultation. To learn more, read the Dear Doctor magazine article "Good Oral Health Leads to Better Health Overall."
By David B. Bernard, DDS
February 10, 2020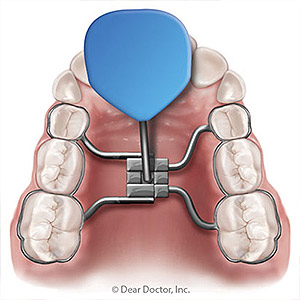 Every year many parents learn their "tweenager" or teenager needs their bite corrected, often with specialized orthodontics. Imagine, though, if these families could go back in time to when their child's poor bite was just developing to stop or slow it from forming.
Time travel may still be science fiction, but the approach suggested isn't. It's called interceptive orthodontics, a group of techniques and procedures performed during the early stages of jaw development. The focus is usually on getting abnormal jaw growth back on track, enough so that a poor bite won't form.
The upper jaw, for example, may be growing too narrow, reducing the amount of available space for tooth eruption. If it isn't corrected, teeth can erupt out of position. To correct it, an orthodontist places a palatal expander in the roof of the child's mouth (palate). The appliance applies gentle pressure against the inside of the teeth, which stimulates the jaws to develop wider.
The expander works because of a separation in the bones at the center of the palate, which later fuse around puberty. The pressure applied from the expander keeps this gap slightly open; the body then continues to fill the widening expansion with bone, enough over time to widen the jaw. If you wait until puberty, the gap has already fused, and it would have to be reopened surgically to use this technique. Ideally, then, a palatal expander should be employed at a young age.
Not all interceptive techniques are this extensive—some, like a space maintainer, are quite simple. If a primary (baby) tooth is lost prematurely, teeth next to the empty space tend to drift into it and cause the intended permanent tooth to erupt out of place due to a lack of space. To prevent this an orthodontist places a small wire loop within the space to prevent other teeth from moving into it.
These are but two examples of the many methods for stopping or slowing a developing bite problem. To achieve the best outcome, they need to be well-timed. Be sure, then, to have your child undergo an orthodontic evaluation around age 6. If an interceptive orthodontic approach is needed, it could eliminate the need for more extensive—and expensive—treatment later.
If you would like more information on treatments to get ahead of bite problems, please contact us or schedule an appointment for a consultation.