My Blog
Posts for: October, 2017
By David B. Bernard, DDS
October 27, 2017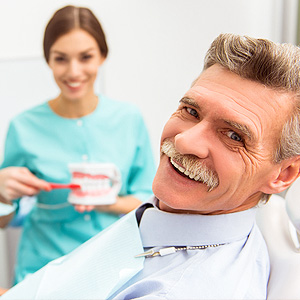 People are choosing dental implants at an increasing rate to replace missing teeth, either as an individual tooth or as a support for other restorations. But unlike other replacement options, we must surgically install the titanium post at the heart of the system directly into the jawbone.
While the term "surgery" might make you nervous, there's nothing at all to worry about. Here's what you need to know about before, during and after this relatively minor procedure.
Before. While the actual procedure is no more complicated than a tooth extraction, it ultimately depends on careful planning beforehand. Using x-ray diagnostics, we prepare a precise surgical guide to help us locate the best position to place them for a successful outcome. We'll also need to check bone volume to make sure there's an adequate amount to securely anchor the implant. If the bone is insufficient you may need bone grafting to build up the site or another replacement option.
During. The actual procedure begins, of course, with local anesthesia to numb the site — you should feel no pain and very minimal discomfort. We access the bone through the gums; often using a surgical guide for alignment, we create a small channel or hole with a sequence of drills that gradually increase the size until it can accommodate the implant. We remove the implants from their sterile packaging and install them immediately into the channel. After confirming their proper positioning with x-rays, we can close the gum tissues over it for protection during healing or attach a healing abutment that extends through the gum tissue thereby avoiding a second surgical procedure.
After. Because we disrupt relatively little of the soft tissue and bone, there's only minimal discomfort afterward easily managed with aspirin, ibuprofen or similar anti-inflammatory medication. We may also prescribe antibiotics to guard against infection while the gums heal. During the next several weeks, the titanium post, which has an affinity to bone, will become more secure as bone cells grow and adhere to it. It's also during this time that a dental lab creates your permanent crown or other restoration that matches the color and tooth shape so it will blend with your other teeth.
This process is complete when we install the final restoration onto the implant. You'll have a new smile and better function.
If you would like more information on dental implants, please contact us or schedule an appointment for a consultation. You can also learn more about this topic by reading the Dear Doctor magazine article "Dental Implant Surgery."
By David B. Bernard, DDS
October 12, 2017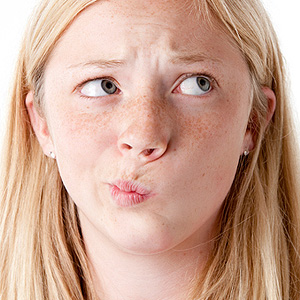 As if the preteen years didn't give kids and their parents enough to think about, new oral health concerns loom on the horizon. Along with major changes to the body, brain and emotions, additional risk factors for tooth decay and gum disease appear during adolescence — the period of development starting around age 10 and extending through the teen years that marks the transition from childhood to adulthood.
Even with declining rates of tooth decay across the nation, the cavity rate remains high during adolescence. According to the American Academy of Pediatrics, 1 in every 5 adolescents has untreated tooth decay. What's more, the onset of puberty — usually beginning around age 10-11 in girls and 11-12 in boys — brings changes in hormone levels that can affect gum health.
We all have millions of microorganisms in our mouth, representing hundreds of different species of mostly helpful, but some harmful, bacteria. Research has shown that total oral bacteria increases between ages 11 and 14, and new types of bacteria are introduced, including some that are not friendly to teeth and gums. Some unfamiliar microbes trigger an exaggerated inflammatory response to dental plaque, so gum bleeding and sensitivity are experienced by many children in this age group. In fact, "puberty gingivitis," which peaks around age 11-13, is the most common type of gum disease found during childhood.
A combination of hormones, lifestyle changes and poor oral hygiene habits raises the risk of oral health problems among adolescents. A more independent social life may be accompanied by a change in eating habits and easier access to snacks and beverages that are sugary, acidic (like sports drinks and soda) or full of refined carbohydrates — none of which are tooth-healthy choices. And as children move toward greater independence, parents are less likely to micromanage their children's personal care, including their oral hygiene routines. Good oral hygiene can keep dental plaque at bay, lowering the chance of having gingivitis and cavities. But let's face it: Adolescents have a lot to think about, and keeping up with their oral health may not be a priority.
To help your preteen stay on top of their oral health, keep healthy snacks at home for your children and their friends and make sure you are well stocked with supplies such as new toothbrushes, floss and toothpaste. In addition, most preteens (and teens) can benefit from gentle reminders about oral hygiene routines.
For optimal oral health through all stages of life, make sure your preteen keeps up with professional teeth cleanings and exams, and talk with us about whether fluoride treatments or sealants may be appropriate for your child.
For more on your child's oral health, read "How to Help Your Child Develop the Best Habits for Oral Health" and "Dentistry & Oral Health For Children" in Dear Doctor magazine.